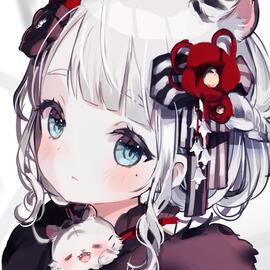 Beryl
Illustrator
Hello, my name is Beryl!
I'm an artist from Berlin, Germany.
I'm accepting inquiries about commissions for illustrations and Vtuber/Live2D.私はドイツ在住のイラストレーター、Berylと申します。イラストやVtuber/Live2D制作など受け付けておりますよ。今のところ、日本語を勉強中。早く返信したいのですが、日本語がまだ上手ではないので遅れることがあります。申し訳ありません。
ただ、これは良ければ遠慮なく連絡してください。
---
Illustration | イラスト制作
| Type | Simple Illustration |
| --- | --- |
| Bust: | 200 € |
| Half-body: | 450 € |
| Full-body: | 600 € |
---
| Type | Full Illustration (w/ bg) |
| --- | --- |
| Bust: | 350€ |
| Half/Full-body starting at | 600-900€+ |
| Background/+Foreground | depending on complexity might charge extra |
Commercial use:Streams: 1.5x
Goods for sale: 3x
MVs (covers not monetized): -
MVs (covers, original, monetized): 1.5xFor a more detailed quote, or to discuss budgets please contact me directly.
Prices are to be understood per character. Please note the currency is Euro (€). Paypal only.Process
‣ If you send an inquiry, please include references, so I can get an idea of what type of commission it is and if I see myself being able to do it.‣ Please inform me of deadlines if available‣ Along with reference pictures, please provide detailed information/wishes/preferences on your character.‣ If I accept you will receive an illustration within 2-4weeks‣ You will receive a high-resolution illustration (A4, 600DPI), or your specified dimensions.‣ For more details please refer to ToS or feel free to contact me.For samples, please refer to the following illustrations.
---
FULL ILLUSTRATION
---
SIMPLE ILLUSTRATION
---
Commercial | 商業イラスト制作
Specializing in:● MV illustration
● Goods design
● Outfit design
● VTuber ModelsFor commercial commissions, please send an inquiry via email with the content, budget, and deadline.
I will refuse the commission if none of these are provided.Please inquire at least 1-2 months before the project deadline.お仕事のご依頼について、予算や締め切りお願いします。無い場合、お断りさせていただくことがあります。 NOTE: Schedule full until June 2022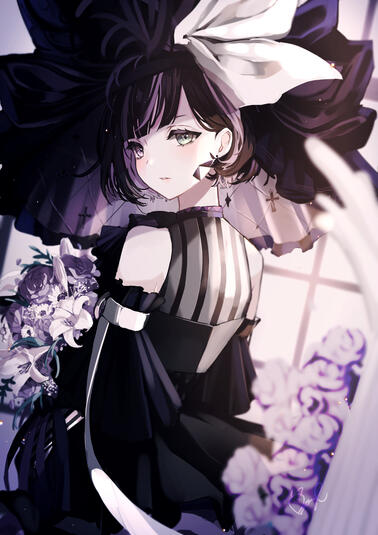 VTuber Commissions
Information in progress
| | Base (no existing design) | Base (already existing design) |
| --- | --- | --- |
| Full-body: | 3800~ € | 2500~ € |
| Half-Body: | 3000~€ | 2000~€ |
| Bust: | 1800~€ | 1300~€ |
| Duration: | 2-5 months | 1-3 months |
Inquiry form for VTuber models: HereModel includes:
PSD rig ready (no L2D rig)
3 Expressions (simple)
Simple reference sheet based on Model (no 3 side view)
| Additional | Price |
| --- | --- |
| Expressions | 20€ ea |
| Hand/Arm Variations | 120€ |
| Hairstyles | 250€ - 300€ |
| Pets | 200€-300€ |
| Large accessories/extras (e.g. wings, weapons, armor) | 100€-250€ |
| Outfit | |
| 3 Side reference sheet | 400€ |
| Clothing only (full-body) | Price |
| --- | --- |
| Base fee for design | € 500 |
| Art+Cut | € 800~1200 |
| Total estimated: | € 1400-1700+ |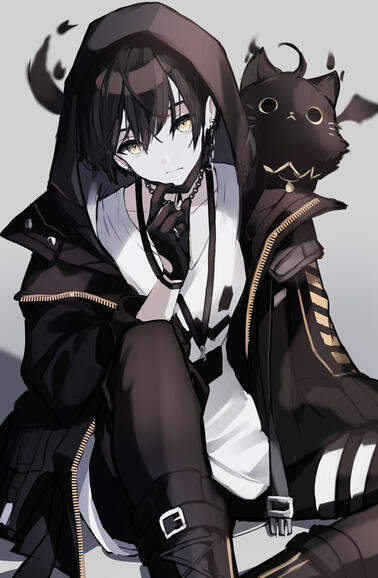 SAMPLES
! Please Note !- All prices are in €uro and include commercial rights.
- Prices do NOT include rigging. Only the design work and preparation for the rig. You need to find your own rigger as I am currently not able to provide this.- I keep the right to use the work (display in my portfolio)- Also, I cannot offer concrete numbers, those mentioned are vague estimations. Please contact me with clear details about what you want for me to be able to send you an offer.About PaymentThe process for Vtuber models is split into three stages.
With each stage a % of the final price will be paid.1. Initial design stage: 50%
2. Completion of art: 50%
Payment has to be effected before I begin working on the next stage of the process.- The model file will not be released until payment has been completed.Currently, I am not able to offer rigs as well, as I am too busy with commissions. Please make sure to find a rigger for your model.Prices are to be understood for use as independent Vtuber only (commercial) and are prone to change in the future.- For companies please inquire beforehand with your budget.If you are unsure about pricing, please feel free to contact me with detailed information for a more personal quote - [email protected]
Can do
- Stereotypical cute anime art.
- I specialize in Japanese alternate fashion (lolita-fashion, larme-kei, Fairykei, anything frilly rly), as well as school uniforms and cyberpunk/tech wear.I also prefer cute characters but can do ikemen if required.Can't do/hesitant to do
- Anything anthro/furry.- Fantasy?-themed à la middle ages/elves/knights/lotr kind of thing. (I generally do not like this genre, please inquire beforehand if your theme goes in this direction and if I would feel confident with it.)- I'm asking you to be sort of familiar with my work and not request something that is very far fetched from the things I usually draw ; ;- Also please note that I will not copy or try to imitate other illustrators' styles. If you don't like mine, I kindly ask you to look somewhere else.
Character Design/Clothes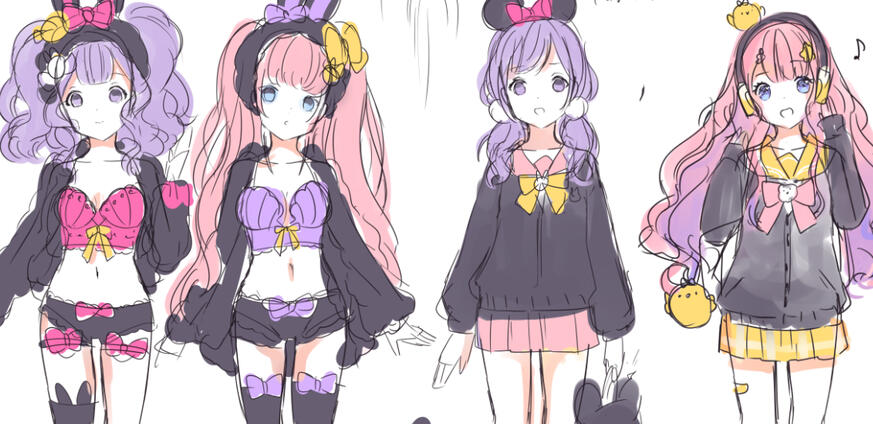 | Character sheet | Custom Clothes (simple illustration) | Custom Character Design (based on no reference) |
| --- | --- | --- |
| € 450 | € - | € 600+(€ 1000+~ Commercial) |
| includes | - | includes |
| Character sheet for already existing characters only. 1 Full-body (2 if slight alteration), back-view, one close-up. Additional views will be charged extra. | - | Full character design, 1 Full-body, back-view, 1 alteration. Character created from scratch. Additional views will be charged extra. |
Please note that the prices entail the design for a new outfit plus a full-body/illustration.
Prices do NOT include commercial use. New designs for Vtuber related activities will be charged 150% on top of the base price.If you are unsure about pricing, please feel free to contact me with detailed information for a more personal quote - [email protected]Examples to be added.
Terms of service
Please note that these tos apply to private commissions unless stated otherwise.1. Payment• All commissions must be paid upfront in full. I won't start on the commission otherwise.
• You will receive an invoice, please don't send me the payment first
• I will start after I have received payment and all the required information
• Payment will be received via PayPal only2. Work Process• You will receive a screenshot of each work process (initial sketch, lines, color, final touches). If you agree to proceed (sign off) to the next step (for example from lines to color) - no changes can be made to the previous step (in this example: lines), otherwise, a revision fee will be applied (20€)• On request, you will get a watermarked, low-resolution preview during the work process• The time for the commission to be completed can range from 1-2 weeks, in rare cases 1-2 months, you will be informed in a timely manner if this is the case. Depending on the complexity of the request and my work schedule• The commissioner will be informed of any delays that may occur• If you want alterations after seeing the preview please state so before I continue. Once a step is signed off by you (by agreeing to proceed to the next step) it CANNOT BE REVISED.• After the work has been completed you will receive a 300 dpi file. You will have to confirm that you have received the file in written form ("with this E-mail, I confirm that I have received the digital goods that I have ordered and paid on [date], via PayPal.").3. Supplying References general guidelines• I will only accept your commission if adequate VISUAL references are supplied. Adding a short paragraph that summarizes their character is perfectly acceptable.
• The more information I receive the easier and quicker I will be able to complete your commission (pose, clothes, background, etc.).
• I will draw NSFW.
• No furries, simply because I am not capable of achieving satisfying results.4. Copyright/Reposting• I own the rights to all my works which allows me to use and repost them online in any way I want (promotion purposes.)• I will not own the rights to any of your characters you may request me to draw.
• Commercial use of my works is prohibited (do not make any money of it whatsoever). For commercial commissions please contact me: blueberylpie [at] gmail.com .• The commissioner is allowed to use, print for personal use, edit and repost the commissioned work. Credit is appreciated but not required.• The commissioner is NOT allowed to claim the work as their own efforts.5. Commercial Commissions• For commercial commissions please contact me over my email blueberylpiegmail.com (->@)6. Refunds/Canceling• No refunds will be issued under any circumstances (exception Vtuber avatars #7). Please keep this in mind when ordering. I cannot afford to waste my time on a commission only to have it canceled when it's 60% done. You will be charged for this.• I reserve the right to decline or cancel a commission and refund the money completely after the payment has been received.7. Concerning Vtuber CommissionsMostly the same rules apply for Vtuber commissions as for normal commissions, however, here are a few more details:• Vtuber Commissions are commercial art and can be used as such. The price includes commercial use• I will use your model in my portfolio, details will however not be released until the commissioner has had their debut/given their consent• Cancellation will only be possible before the sketch has been approved. Any cancellation occurring past the approval of the sketch will be charged with the time and effort spent (starting at 20% of the initial price).
I will still reserve the right to decline or cancel a commission. Refunding the full amount after the payment has been received.By commissioning me you are agreeing to all the aforementioned terms.
CONTACT
For inquiries, please email me at *blueberylpie @ gmail.com* (remove the spaces)With the following details:Name:
Social Media:
Inquiry contents:
Deadline:
Budget:Thank you!